Between farm and fork there lies a perilous journey that could unravel even the best laid plans, especially with the impact of Covid which has disrupted shipping, suppliers, staff management and changes in consumer sentiment. No doubt many of us have been disappointed in recent weeks to walk into a grocery store only to find the shelves bare of our preferred products. These events highlight the need for a resilient risk management and business continuity plan.
According to the Australian Food and Grocery Council "the average food is moved in and out of refrigeration control 14 times before consumption. In one South Australian study, broccoli took 39 steps along the Cold Chain – having as many as 23 operators and 21 stages involved on the way – to reach consumers [1] The Cold Chain is a series of businesses involved in the manufacturing, shipping, storing, retailing and serving of fresh, chilled and frozen foods."
Food producers and those involved in the supply chain therefore require a robust safety culture and Food Safety Plan. Risk management plans extend to identifying, analysing and prioritising a tailored solution and back up plan to minimise the disruption in the event of a disruption to any part of the supply chain. Insured's will often only focus on their own business without considering the "what ifs".
---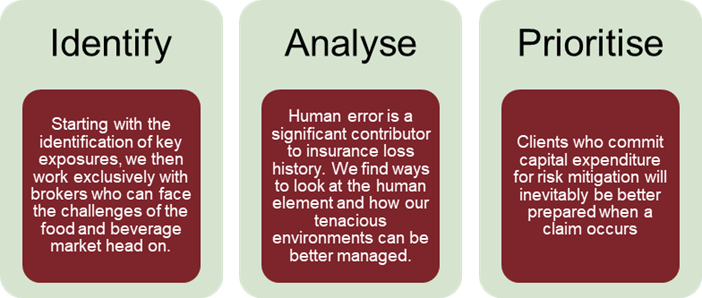 ---
Considerations in the development of a Business Continuity Plan must include:
Key dependencies – critical plant and equipment, spare parts, power, alternate processing / storage capabilities
Contingency plan – documented strategy that can be implemented in the event of a loss or disruption
Customer / supplier dependencies – raw materials, alternate suppliers, alternate customers
In any business one of the key elements is to ensure that record keeping is of the highest standard. This is even more critical in the Cold Chain where products require storage in temperature-controlled environments. Any break in the chain can lead to product alteration, spoilage and, in extreme cases, illness for the consumer. Australians are estimated to be throwing away food worth $5.2 billion a year, including more than $1.1 billion worth of fruit and vegetables and $872.5 million worth of fresh meat and fish. [2] It has been estimated that contaminated food caused approximately 5.4 million cases of gastroenteritis annually in Australia. [3]
Depending on the circumstances, insurance policies may not cover these costs, highlighting the need for a rigorous risk management plan, including supply chain management.
An industry as diverse as food and beverage requires specialist underwriting knowledge and an understanding of the insurance solutions that are right for each circumstance. @Risk Underwriting aim to provide appropriate guidance and coverage to suit your needs.
---
[2] What A Waste, David Baker, Josh Fear and Richard Denniss
[3] Estimating foodborne gastroenteritis, Australia. circa 2000 (Hall & Kirk 2005)